Denim skirt for Barbie BFF 28″
By request!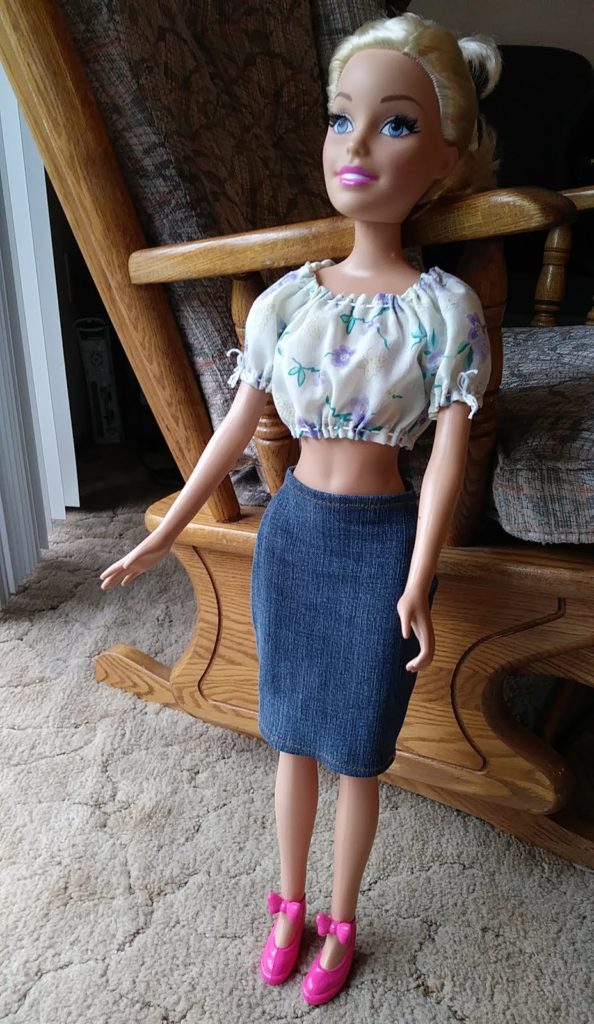 I seem to have moved back to the 1840s. At least I have my hard drive and a folding solar panel. So I used the lovely Ivy Draw, cool vector editor for Android that I've talked about here, to trace the photo I took of the pattern, and here you are. Printing to a PDF seemed to work just fine. I can't test it as I don't have my printer. Make sure that line comes out 3 in and it should be fine.
If the pdf doesn't come out right, you could always transfer the old fashioned way from this image. Ignore the darts you can still kind of see, I decided not to go with those and just build the shape into the closure which (miraculously) worked, at least the one time I tested it.
For the top and bottom edge I just folded over and top stitched. I used Velcro on the back closure.
Once I get with that big girl again, I'll give this another test.
I also have another cute skirt in mind, a little yoked, ruffled miniskirt, and that was in the drawing and testing phase when I stepped into the time machine. Hopefully soon, because it'll be fun!