Free printable peasant dress pattern for adult women. Women means grown up females. I dislike the term "Misses" for everyone who isn't overweight. Maturity or marital status does not imply weight gain any more than being single means you must be thin.
Simple pattern in PDF format for 8.5 x 11 letter size paper.
I had to make up my own because none of the others were quite right. I wanted a smaller, more modest neckline instead of a huge one. I wanted it to have plenty of fabric and a generous long skirt.
For reference, I'm 5'8″ and 38-30-43, which may as well be designated Medium.
Requires at least 6 yards of 44″ fabric if you cut the skirt panels in opposite directions (some up the grain and some down), but it's nicer to cut the skirt front on a fold so there's no front seam, and patch in the corners.
This is the OLD PATTERN. Scroll down for the newer one.
Download the pattern in pdf for size Medium (38) and here's the original round yoke pattern if you want it. I'm not happy with this one any more and a better version is below.
Download the pattern for size XL Extra Large / Bust 42
There it is with a round yoke: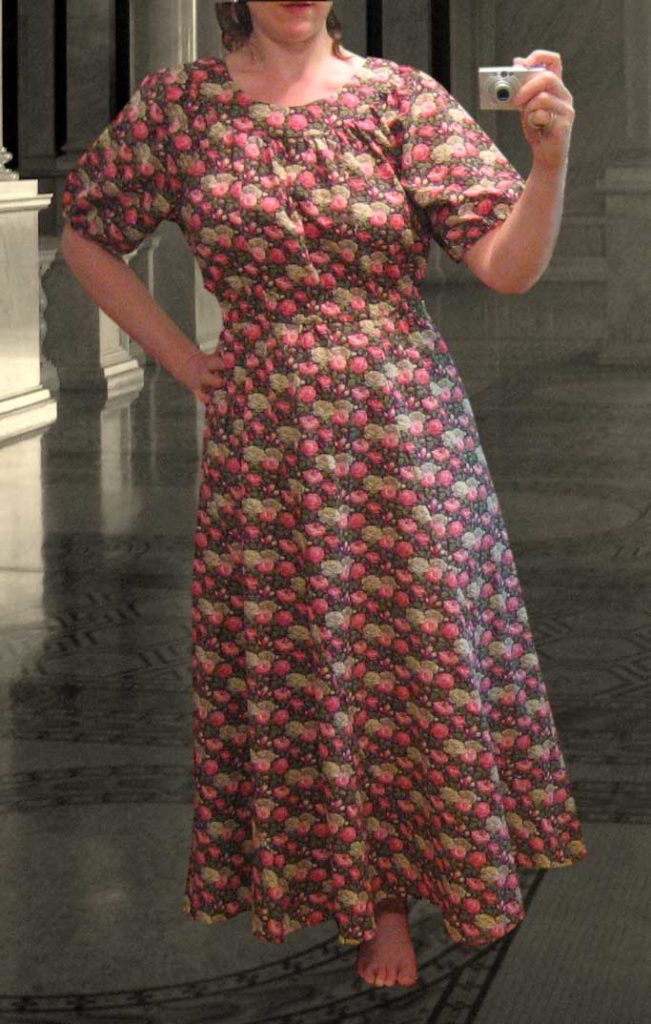 NEW version
After some thought, I wanted the armholes a bit deeper, the back neckline a bit higher, and less gathering at the shoulder tops, also a little less fabric overall. Loose is great but not baggy. It was too baggy before.
On something this simple it's easy to check how big it will be. Print the pieces and use a ruler. Side to side of the size M pattern piece is 12.35″ wide, if you take away half inch for seam allowance that's 11.85, times 4 (two pieces cut on fold makes four seam allowances) the finished garment measurement should be 47.4 ish.
Assuming bustline measurements:
Small 34-36″
Medium 37-39″
Large 40-42″
XL 43-45
So for size M that's 8″ of finished garment ease. Plenty if you ask me. The waist is tapered a bit. If you have a large waist, you can cut the sides straight down from the armpits instead of tapered like they are. The skirt should be flared enough for anybody, or if in doubt, cut it wider.
Finished garment bust width:
Small 44.4
Med 47.4
Large 50.4
XL 53.4
(What's up with all the point-fours? Kinda strange. The pattern pieces are 11.6, 12.35, 13.1 and 13.85 across, multiply by four and they all come out point four. I had to stare at that a while. But that's how it worked out.)
I put the yoke pattern piece back with slight modification. I haven't tried that yoke yet, but I will, now that you mention it. It's no more work than a bias strip for a casing. ("Fold over twice to form a casing" on a curved edge doesn't work in anybody's universe although the commercial patterns don't seem to have noticed yet.)
This hasn't been tested on other sizes. I'm only a M and I'm not a social critter. I'm working on a new finished model right now. Try it out for me! Use a ruler to make sure it's going to be plenty big enough before you cut (you can always make it smaller) and then send me a photo of your test with notes. Much appreciated.
Peasant dress in size S – M – L – XL now with a skirt that isn't all that long, because why tape so many pieces of paper together. You can either cut it longer or add a ruffle. And this has the round yoke with it.