Quilt As You Go Potholders
Easy and quick homemade scrapwork potholders make great DIY gifts! You don't need a pattern and they're FREE to make out of fabric scraps.
Most of the instructions I found for quilted potholders use bias binding, like commercial potholders. But it's so hard to sew bias binding on straight. Why not cut the backing larger and wrap it around both layers? That way it's got the bound look, but can be pulled tightly in front while sewing because the back layer stays put.
Testing with some random scraps. A couple layers of old towel for the batting. The corners came out pretty messy on the first test. I wasn't folding them right just yet! So I stitched something pretty over the top. They're good enough for my own drawer, and we're getting warmer.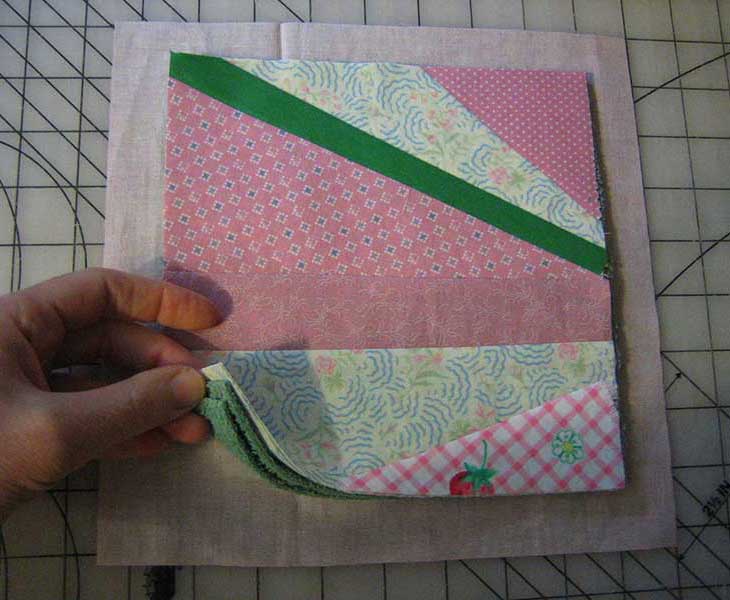 Wrapping GIFTS gave me an idea of how to do the corners right!
Just add some loops for hanging and they're cute enough to be a present.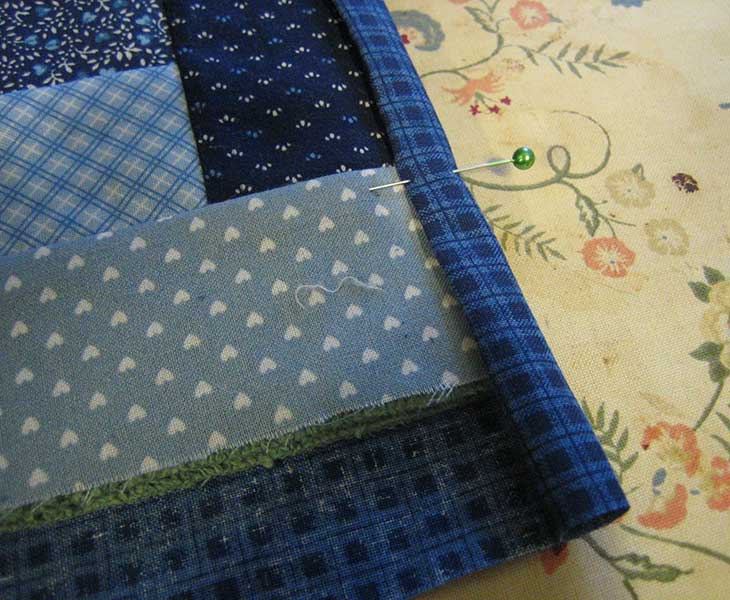 The blue ones are to match a Navy blue kitchen. The next project will be to match Kitchenaid red.
I found some scraps just right, a long piece 2″ wide with red apple graphic print, some red and white fabric that was 5″ wide, a bit of black with apples on it, and quite a big red piece with little white hearts, plenty for the back and binding.
I designed the perfect pattern to make use of the available fabric, and gaily started cutting! And I cut 2/4ths of the pieces 1/2″ too short.

For this pattern, to make an 8″ finished square, the center block should have been 2.5 x 2.5 and the spokes should have been 1.5 x 5.5 each. For some reason I cut the apple and the red and white pieces all 2.5 x 5″ by mistake.
That was all the apple graphic fabric I had, and I'd had my heart set on using it.
Thought of great way to fix it and make it even better! So I cut the apple pieces 1/2 inch shorter, and then my fix didn't work either.
If this keeps up long enough I'll end up with a pile of scraps.
Sulked, went to bed.
Woke up and thought of a better pattern!
For this I need 2.5 x 2.5 squares and 1.5 x 4.5 strips. The red apple fabric is the right size. Here we go.
The quilting part on this one was especially fun as one continuous line connects every square.
I'm SO delighted with this idea, it's extremely fast and fun, takes less than an hour to churn out a beautiful handmade gift. They're done before you know it, at least assuming you don't cut your fabric wrong twice.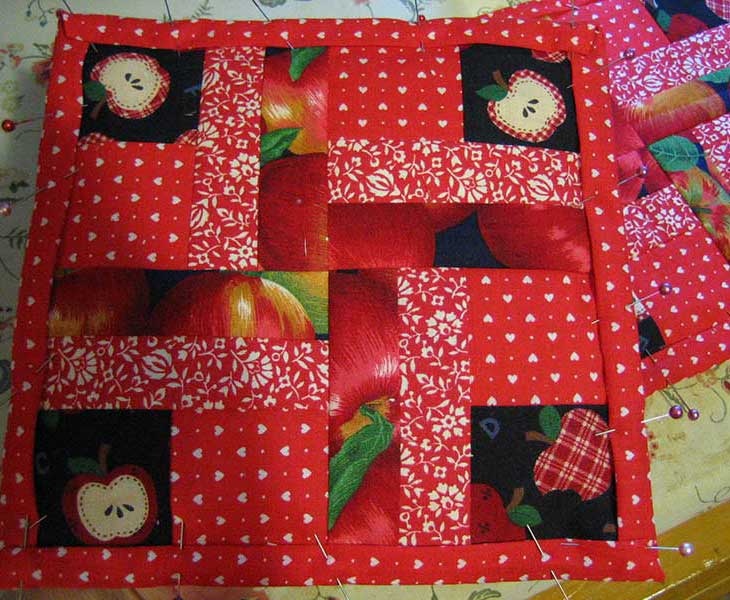 Got smart and sewed the hanging loops on first next time.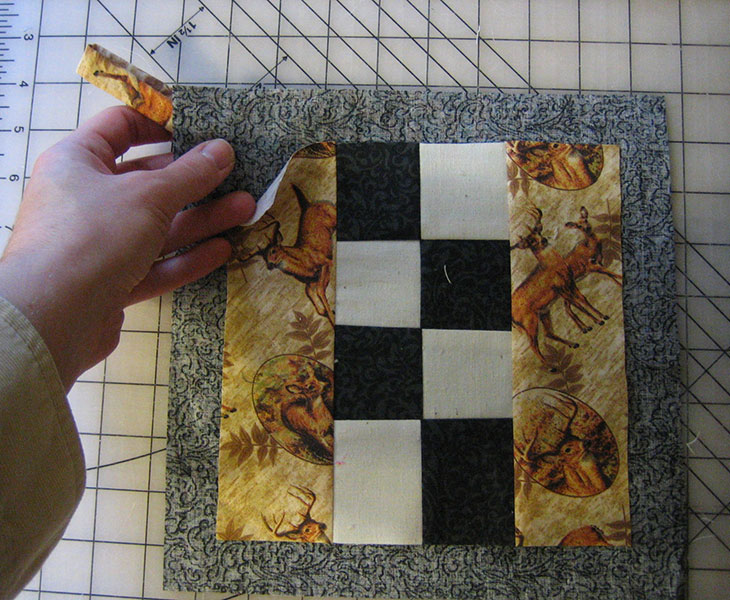 Some for another friend, and some for my Mom!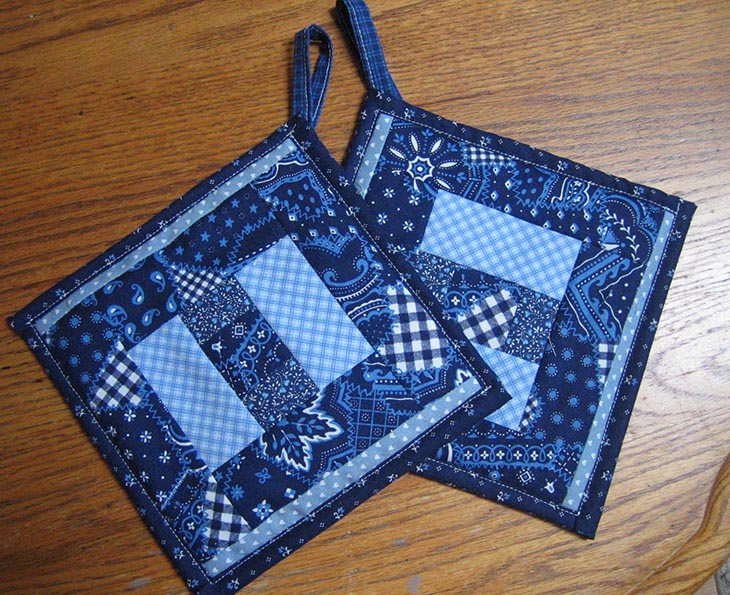 Each one of these is totally unplanned. I fish around in the box and come up with something pretty, one piece large enough to be the backing and some coordinating scraps to make patchwork for the fronts, and the pattern is "whatever way I have enough fabric for".
Someone emailed a question:
"Am looking at your Christmas 2009 potholders (came up when I googled) and love them! I am actually going to try and make some on my own. However, I am a new quilter and do not have a lot of tools yet. On the first potholder, there are angled strips to make the potholder. How did you make those strips so that they fit together so well? Please let me know. Thank you so much."
Answer:
Check out these… or google for "string quilt". There's no fitting 🙂
https://www.janelwashere.com/quilt-as-you-go-string-patchwork/
https://www.thesprucecrafts.com/make-a-string-quilt-2821858