This was the first Barbie dress I designed from scratch, many longs ago. It was by necessity and was jumping into unknown waters for me. Up until then I had been happily using commercial patterns to make outfits for my daughters' dolls, but at some point four of their nine Barbies were the new bellybutton kind and couldn't fit into the clothes of the others. The only clothes they sold for 1999 Barbie were jeans, short skirts and other trendy modern outfits, and we wanted princess dresses! The commercial patterns hadn't come out for the new shape yet.
Something had to be done.
Then I shared it on the internet, in case there was anyone else out there in the same fix. And I guess there sure was 🙂
Here's the bodice pattern in pdf form to download and print
Instructions:
First the dart seams and shoulder seams
On the ends of the sleeves, and the back where you're going to put snaps or velcro, fold over a tiny bit then a wider bit, and sew a straight seam along there. Much easier to do that while it's flat.
Pin the sleeves into the armholes, making tiny tucks to take up the fullness, and sew along there.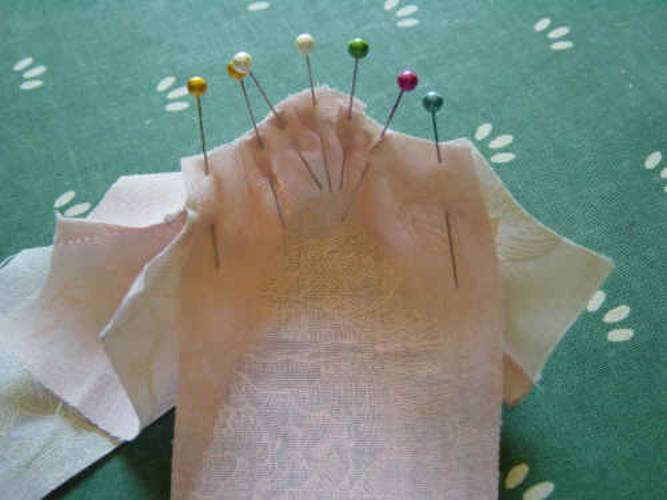 Fold over the sleeve, wrong sides together, and sew along the sleeve and down the side seam.
For the neck, just zigzag the rough edge, then fold it inside a little and straight stitch over the top of it.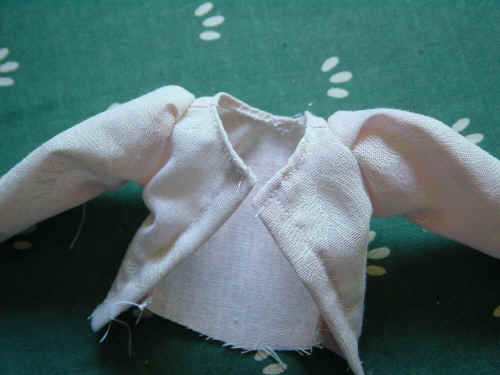 Fold both ends over on the skirt piece, first a little, then a little more, and straight stitch along there. Then line it up with the waist on the dress, and sew them together.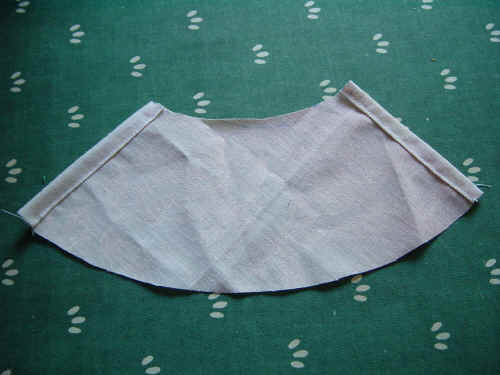 Hem? No way! I don't hem curved edges, anyway it's not like Barbie wears these things, she only models them. In case Barbie gets her new dress muddy (as I've seen her do) and you want to put it in the washer, you can zigzag this edge before sewing lace over it.
Then sew snaps or Velcro along the back, and voila, it's done, in such a short time that the little girl standing by your hip all this time hasn't lost interest.
After the first batch of pictures was taken, my five-year-old confiscated Sleeping Beauty Barbie and left me with Bad Hair Day Barbie.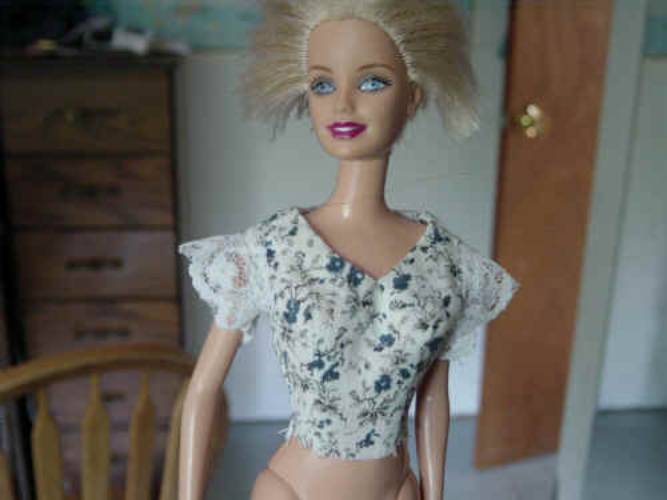 The skirt has gotten lost over the years but I'm just about to recreate it 🙂
Scant 1/4″ seams are allowed. By scant I mean if there's any doubt, to make the seams smaller than 1/4″, not larger.
I used a Sharpie to mark on my presser foot where 1/4″ actually falls, then I stitch with the edge of the fabric on the near side of that black line, not the far side.