I wanted, not a dishcloth, but a cotton round to lie on the kitchen counter for cushion under pans and things. I wanted it openwork for more ventilation.
1) Dig through the internet for two hours 2) There's nothing like that 3) Invent something.
Not that I really cared until I started, but there aren't many septagon doily patterns out there. I don't favor six points, and eight points is too many, so if I'm going to make this up by myself it might as well have seven. And I'm only going to say heptagon if the month after August is Heptember.
I like how it worked out. Seven sides, seven scs in each loop. It's a very perfect pattern!
I like how it resembles a flower. If the center was yellow, the petals rose and the outside green it would look even cooler but these were the only scraps of dishcloth cotton that I had handy at the moment.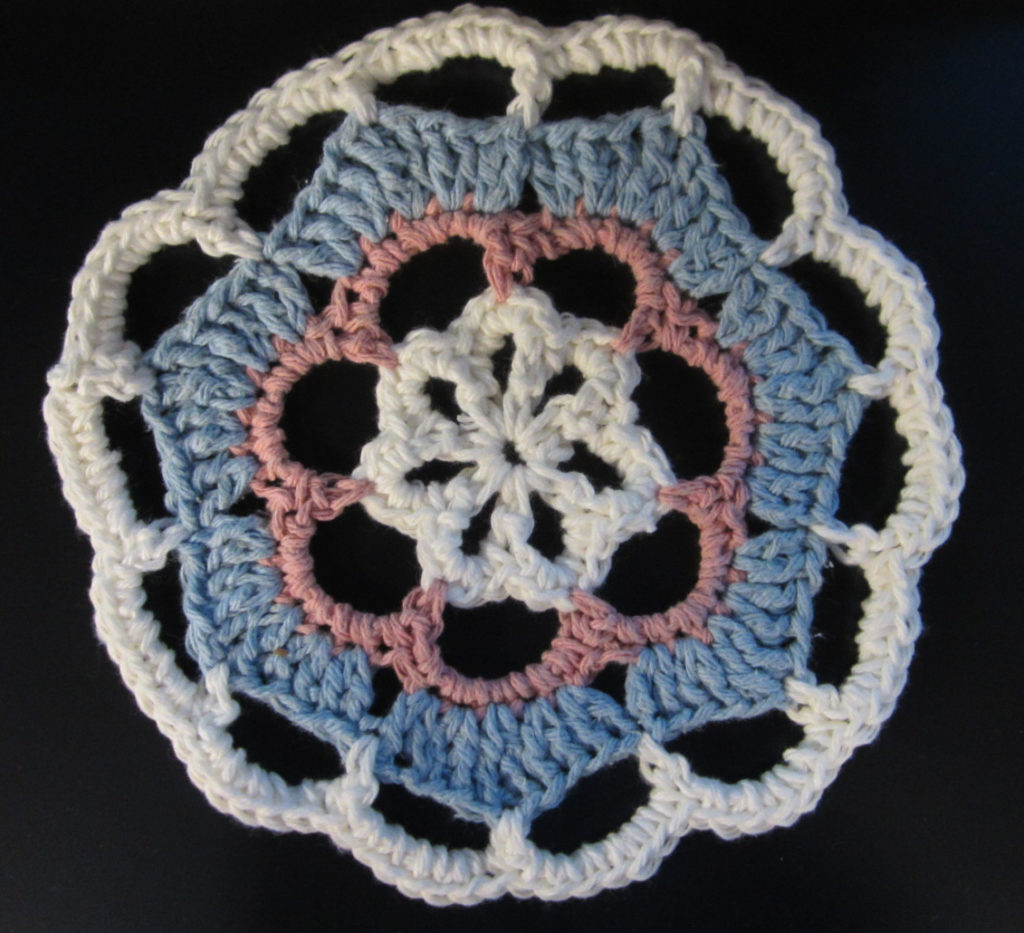 Written instructions. Short version. Most readers have probably crocheted before and know how to begin and end rounds.
(sc = don't yarn over, dc = yarn over once, tc = yarn over twice)
Round 1: Ch4
Round 2: (1sc, ch5) seven times
Round 3: 5sc in each loop
Round 4: In the middle sc of the five, 1sc, ch6
Round 5: 7sc in each loop
Round 6: Skip 1st sc, then 2dc, 2dc, 2tc, 2dc, 2dc
Round 7: 1sc in first dc, ch6, 1sc in second tc, ch6
Round 8: 7sc in each loop
And here's a diagram:
Update early next morning: those three mats on the counter made me smile. They're happy-making! 😊
Update late next morning: I find them naturally in use, even the phone has a coaster, now maybe we need one more–?