Free Sewing Pattern for Barbie 28 inch Best Fashion Friend Doll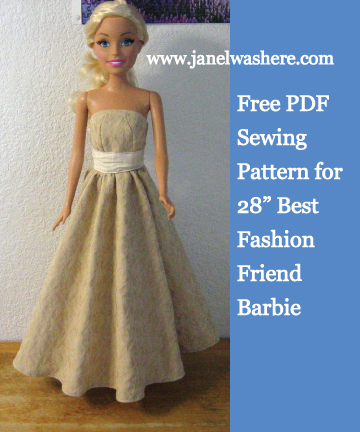 I like this big lady so much, that outfits for her just seemed to fly off my worktable!
There aren't many fashions out there for her size yet, but I found her easy to design for and "Twenty Eight" had a wardrobe full of dresses in no time!
Don't knock my little craft area, I am soooo happy in that corner of the garage :-)
There's the shorter skirt version.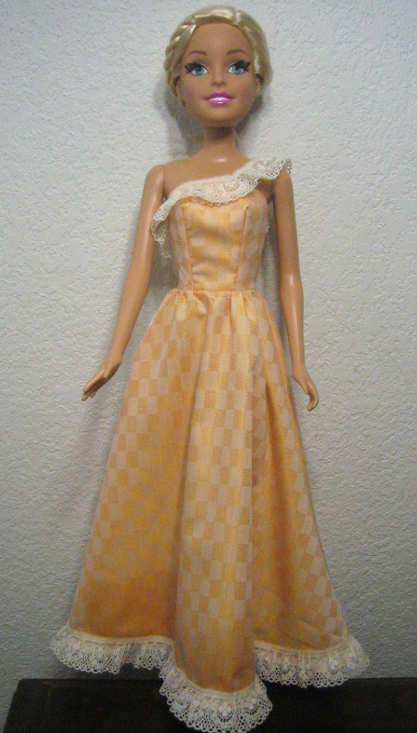 The Southern Belle ball gown. I just love how this one came out.
That was just the strapless bodice with a piece of lace over it :-)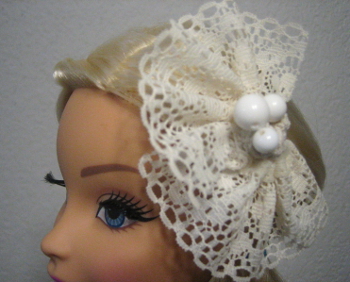 And a classic pink Barbie princess!
Here's the strapless long dress -- see new blog post
Here it is with a gathered skirt. I made this from an old nightgown and used the whole width of the skirt. The square was 54" wide x 12" tall. That's a lot of fabric to gather! But it was very lightweight so it was possible.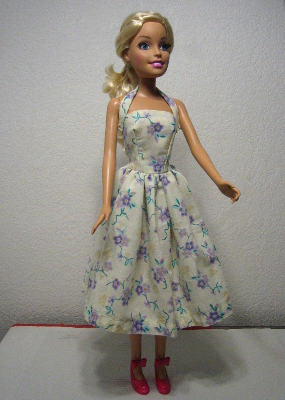 Do you notice how close 28" Barbie looks to the 28" Descendants? I can't buy a $40 doll no matter how much I would like to, but my next design for Barbie is going to be an ATTEMPT to fit Descendants too. They look the same but I've gotten word back that Mal and Evie are just a tiny bit smaller in the body. Wait and see!
And then someone out there with a Descendants doll is going to have to sew it up and let me know :-)