Barbie One Size Fits All Sewing Patterns
I see a real need for this. It's a simple, quick dress to fit any Barbie shape. We have a pile of naked Barbies. They need clothes quick, and they should be able to share. Let's go.
Here's a simple shift dress that pulls on, with a tie in the back. The other, a basic peasant dress, has Velcro closure. Both have only one pattern piece.
I've tested with Bellybutton, Original/Vintage and Curvy. I feel confident these would fit Tall, Petite, and ModelMuse. I don't own a Disney Princesses. Curvy and Lammily are similar dimensions, and the shift pulls on over Curvy's hips exactly right, so I bet it would fit Lammily and the peasant dress definitely would. I think it would fit most 11 or 11.5″ figures, and it even works with a 10″ slim fashion model doll called Zuru Glitzees Princess with a 2.5″ waist. It's generous on her but fits well enough that it's acceptable to play with. And that's the point: acceptance, sharing, and playing.
It's so simple that it takes minutes to make. The shift dress doesn't even need any fastener.
It can be a gown if you use shiny fabric, or it can be playful in a print. It's a blank canvas for your decoration. Try patchwork, lace, whatever.
I'm actually excited about this.
I mean, I understand that the original Barbie shape needed an update. Bellybutton Barbie was a good solution. There were no patterns for the new shape, so I made one up and shared it; then Simplicity came out with a couple paid ones that were extremely cute. Okay, now there's a new shape and there are patterns. I would have called that done.
But they just couldn't leave well enough alone, and now there's a crazy variety of body shapes and sizes, all called Barbie, so that, like a bird watcher, you need a field guide with a flowchart to help you figure out which species any particular girl is. That's just nuts.
I've had some troubles that kept me busy for a while, and also, my baby girls grew up. But I've liked sewing for dolls since I was little. When I had a moment, I came back and looked to see if there were any spaces that needed a contribution from me. It didn't seem so. All those new bodies have been covered (haha) with patterns.
The one thing that hasn't been done is to sweep all that aside and offer a solution to this nonsense: ONE dress to conceal the nakedness of any approximate Barbie.
I don't think adult hobbyists will be interested in this. Grown ups who sew doll clothes for art's sake probably have money to pay for beautiful, complex patterns. I enjoy admiring their masterpieces, but what I'd like to do is help out the moms and grandmas who want something simple that can expected to fit their "11.5 inch fashion doll".
Can there really be a cute dress from just one pattern piece to fit any doll? Well, here it is. Not once but twice. So that's my latest contribution to civilization and I'm happy again.
I'm looking forward to making more models and more designs. I'd like to turn the halter dress into a OSFA.
But I am in such a rush right now! Life's moving, we're moving. We have difficult but possible challenges that we must rise to meet. I've gotten this project this far by thinking about it before falling asleep, then working on it in snatches of stolen time when I should be doing real life stuff.
Let me know if you have suggestions.
I want to do something like this for the 28″ dolls too, Barbie, Curvy, and Descendants. I already have a peasant top for 28″, it just needs a wider skirt and there we go. I haven't made anything for 28″ Curvy Barbie yet! She's been lying in a dresser drawer for a year. Must sew. Possibly… summer 2023? Or when I get snowed in, winter 2023 which I'm looking forward to 🙂
Free printable pattern in PDF format – Barbie OSFA shift dress
And here's the pattern for Barbie OSFA peasant dress
Instructions for Shift Dress
Cut one pattern piece on fold – that's it, just one!
Make 1/4" clips at the corners where indicated
Fold over barely 1/4" at neckline and armhole edges and topstitch. ("Barely" means "almost 1/4″ but not quite, and definitely not as wide as your presser foot"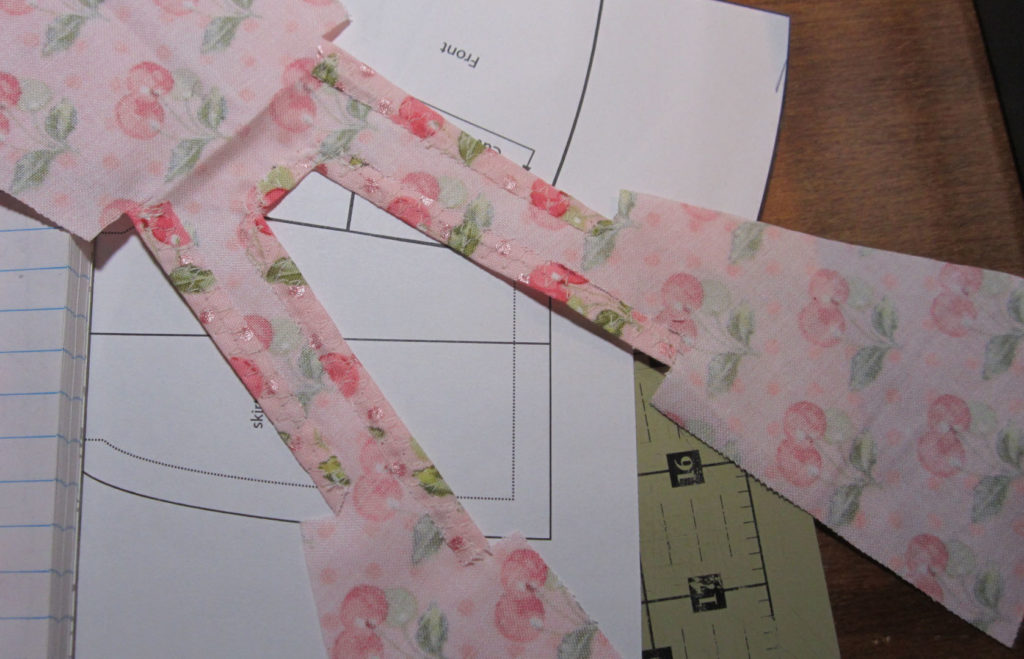 Sew side seams together, up to the clip
(Add the bottom ruffle at this point if you're doing one)
Sew up back seam to the clip
Hem the bottom
Tack the tie belt on last
Instructions for Peasant Dress
Cut one pattern piece on fold of fabric
Make 1/4" clips at corners where indicated
Fold over neckline and sleeves shy 1/4" (almost 1/4″ but err towards the narrow side) and zigzag over a piece of cord, then pull up to the measurements given (printed on the pattern for your convenience if hand sewing while travelling) – sleeve edges 2.5 inches and neck to 5 inches.
Sew side seams
Fold over back edges then add velcro
Narrow hem or a ruffle – in the picture I used piece 2" x 16"
Here's how the pattern pieces look when they're taped together: