Crochet Projects
My Scrapghan
A simple crochet pattern to make an interesting ripple design. One thing I don't like much about ripple afghans is that one end has all nice points, but the other end has a half-point at each corner. So what I did is make up a bunch of little diamonds, then start the ripples over them. I've seen people do this with diamonds in the center but I think it looks fine with them all on one end.
Click the picture for a closeup.
Of course it's only halfway done! It's gonna be HUGE! And it's just for really, honestly using up leftover scraps. So there's no rhyme or reason to the color scheme. Whenever more scraps come along, I add more to the scrapghan, otherwise it stays on the closet shelf.
The blue G in the lower corner is crocheted in chain stitch to remind me what size hook I was using. I'll pull it out afterwards. That's so I can't put the project aside for a while and forget that little detail :-)
To make the little diamonds:
1. Chain 4, join into ring
2. 8 sc in ring
3. 3 sc in 1 sc, 1 sc in 1 sc, repeat around
4. 3 sc in middle sc, 1 sc in next three sc, repeat around
The rows of ripples are 6 sc up the point, 3 sc in the topmost sc of the point, 6 sc down the other side.
Question:
I found your blog and love the scrapghan with little diamonds. I am thinking of making it. How did you connect the little diamonds?
Answer:
After I made a bunch of those little diamonds, I just held them up one by one and started doing the ripple rows over the top of them.  I didn't join the diamonds together in any way first. 
Blue and White Blanket
This is the pattern I used for a throw for the couch. I made six rows of shells in cream alternating with one row in teal, then went around the edge with the teal.
I'm WAY too lazy to figure out in advance how much yarn I'm going to have! I just buy a bunch of skeins and start working in pattern, and when I run out of one color, stop and use the remaining color to go round and round the border!
I scribbled the pattern on my Palm: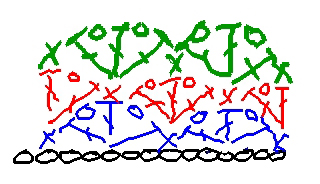 Granny Baby Blanket
From four different colors of leftover yarn that people gave me.
The granny squares are joined with crochet because I hate sewing to join crocheted pieces. I crocheted them together!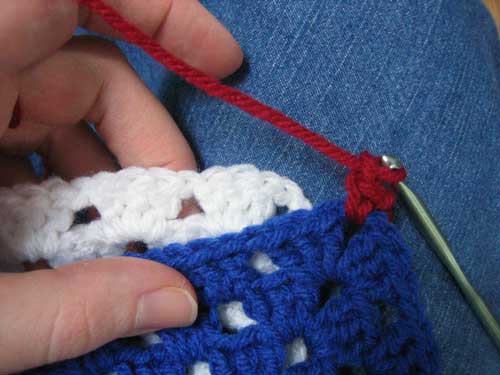 Click for larger view...