Free Patterns for Bellybutton Barbie Dresses
Back to Doll Pattern Index
NOW they've come out with a pattern for the 1999 Barbie body. But for a while there, they didn't. When they first came out, my daughter had nine Barbies and four of them were the new shape, but the only clothes available for that shape were the "trendy" tops and hip-huggers such as the new body shape was designed to model. But we wanted princess gowns! So I made up my own. Here's the results.
Here it is as a printable Adobe pdf version
Then click here for Sewing Instructions which is the oldest, original page on this site!
I know the skirt piece isn't provided... that's because I based the skirt piece on whatever shape of fabric scrap I had to work with.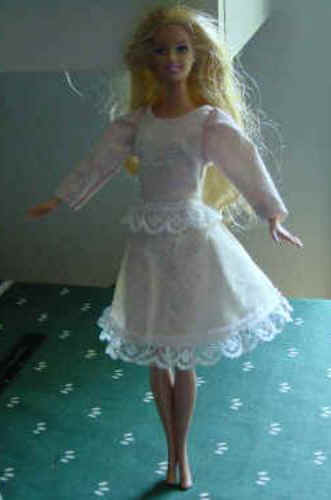 Fitted Bodice with Simple, Modest Neckline and Short Sleeves
Ten Years Later, Here's the "Second Draft" Pattern back again!
It had gotten lost in the shuffle, unfortunately. I had to recreate it, which I just did now (2013) after several people wrote to ask me where the pattern download link went!
I like the way this one came out. I think it'll work better than the original.
Save and print the pdf pattern
Go to the same Instructions page as above, for more pictures and sewing tips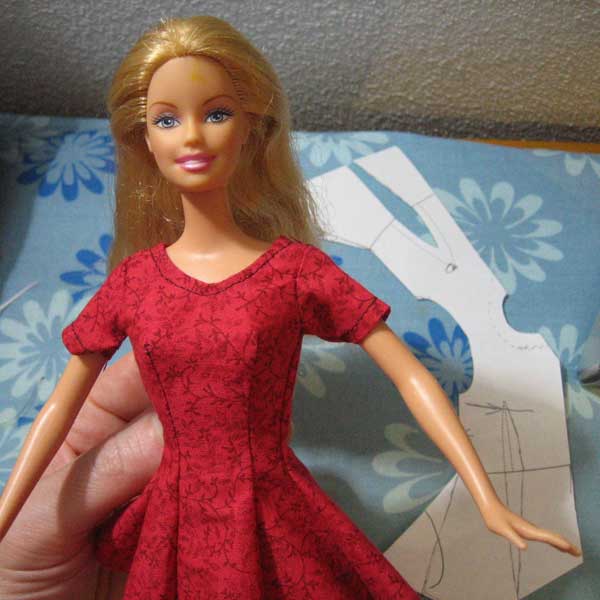 In this test I tried extending the pattern pieces further down to form skirt shapes, and produced a pretty "princess seams" fit-and-flare dress.
With the shoulder seam eliminated like this (which I find easier), the skirt's limited to being above-knee length. This could be changed by adding shoulder seams again. Don't forget to add seam allowances if you do that.
The first page of the pattern is the bodice alone, the second page includes the skirt extensions if you'd like to cut it all at once. Print the extensions and then line them up with the bodice pieces, join with a piece of tape.