Free Pattern for Bellybutton Barbie Dress
When the 1999 Barbies first came out, my daughter was five years old, and of the nine Barbies she had, four were the new shape.  The only clothes available for that shape were the "trendy" tops and hip-huggers such as the new body shape was designed to model. But we wanted princess gowns!  It took years for the pattern companies to come out with a pattern, so I made up my own in the meantime.
The "bellybutton" Barbie has a smaller rib cage and larger waist and hips than the previous, traditional Barbie shape.
Here is the printable Adobe pdf pattern
It's just the bodice, I didn't provide a skirt shape.  I usually go by what size and shape of fabric remnant I have to work with.
First sew the dart seams and shoulder seams
(These pictures were taken with one of the rough draft versions of my homemade pattern, so some of the shapes are a little different)
On the ends of the sleeves, and the back where you're going to put snaps or velcro, fold over a tiny bit then a wider bit, and sew a straight seam along there.  Much easier to do that while it's flat.
Pin the sleeves into the armholes, making tiny tucks to take up the fullness, and sew along there.
Fold over the sleeve, wrong sides together, and sew along the sleeve and down the side seam.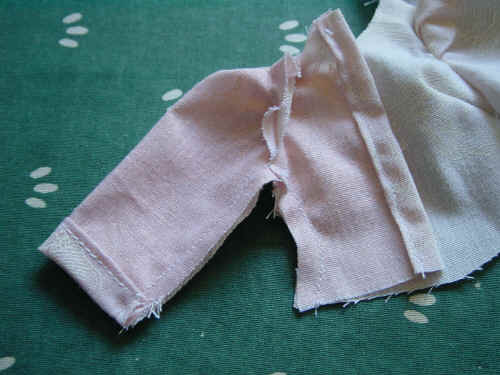 For the neck, just zigzag the rough edge, then fold it inside a little and straight stitch over the top of it.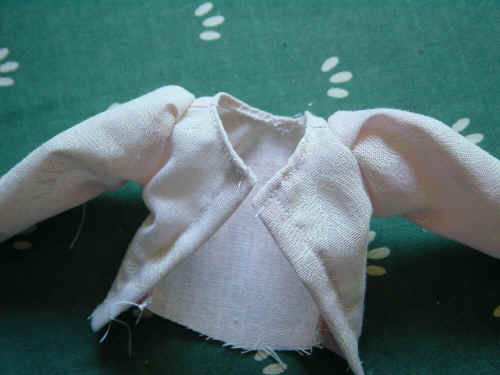 Fold both ends over on the skirt piece, first a little, then a little more, and straight stitch along there. Then line it up with the waist on the dress, and sew them together.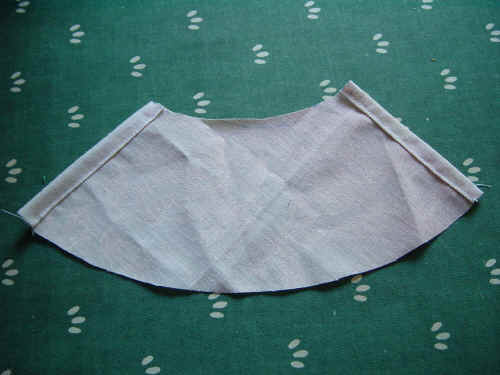 Hem? No way!  I don't hem curved surfaces, and it's not like Barbie WEARS these things, she only models them! In case Barbie gets her new dress muddy (as I've seen her do) and you want to put it in the washer, you can zigzag this edge before sewing lace over it.
Then the snaps or Velcro on the back and voila, you're done, in such short time that that little five year old girl standing by your hip all this time hasn't lost interest!
Save
Save