There are TWO Free Patterns here – scroll down!
One-Size Version of the Bodice
Barbie_strapless_printable  – pdf format
It's just one pattern piece with 1/4 inch hems included!  Use a gathered rectangle for the skirt.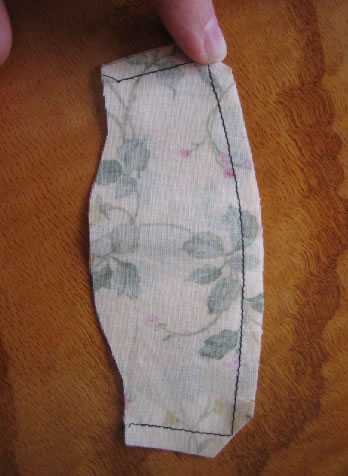 Cut two pieces, put them right sides together.  Stitch 1/4″ from the top and sides, clip the corners and turn, then stitch the darts.
(Or, for a smoother interior, stitch the darts on both pieces first, then sew the two pieces together.)
A rectangle for the skirt… leaving a bit on each side to fold over and hem.  Then add velcro on the back.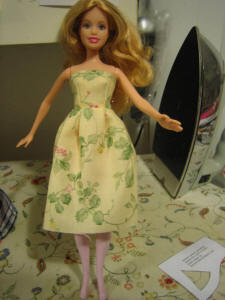 That's as done as this test model is gonna get.
Another test model, with really elegant zigzag hem finishing… turned the wrong way too, in my glee to get on with developing.  You know you can do better than that  🙂
I was trying to make sure it would fit all three Barbie shapes, the classic 1966, 1999 and 2006,
and it does.
There it is on the 1966.
Newer Version of Barbie Strapless Bodice
updated May 2012
I just don't think that one version should really be for ALL the different shapes. So I customized the pattern for the four different body types. Here's the printable file which includes different patterns for 1966 Vintage or Twist-n-Turn, 1999 Bellybutton, Hobbit and Modelmuse Barbie shapes.
Also, I decided I didn't like the triangle cut-out thing I had for the dart, too many people were cutting it out instead of marking the triangle.  It's better to have a regular cut-out shape and mark the tip of the dart with a pen.
Please let me know what you think!